The Benefits of Fresh Air and Being Outside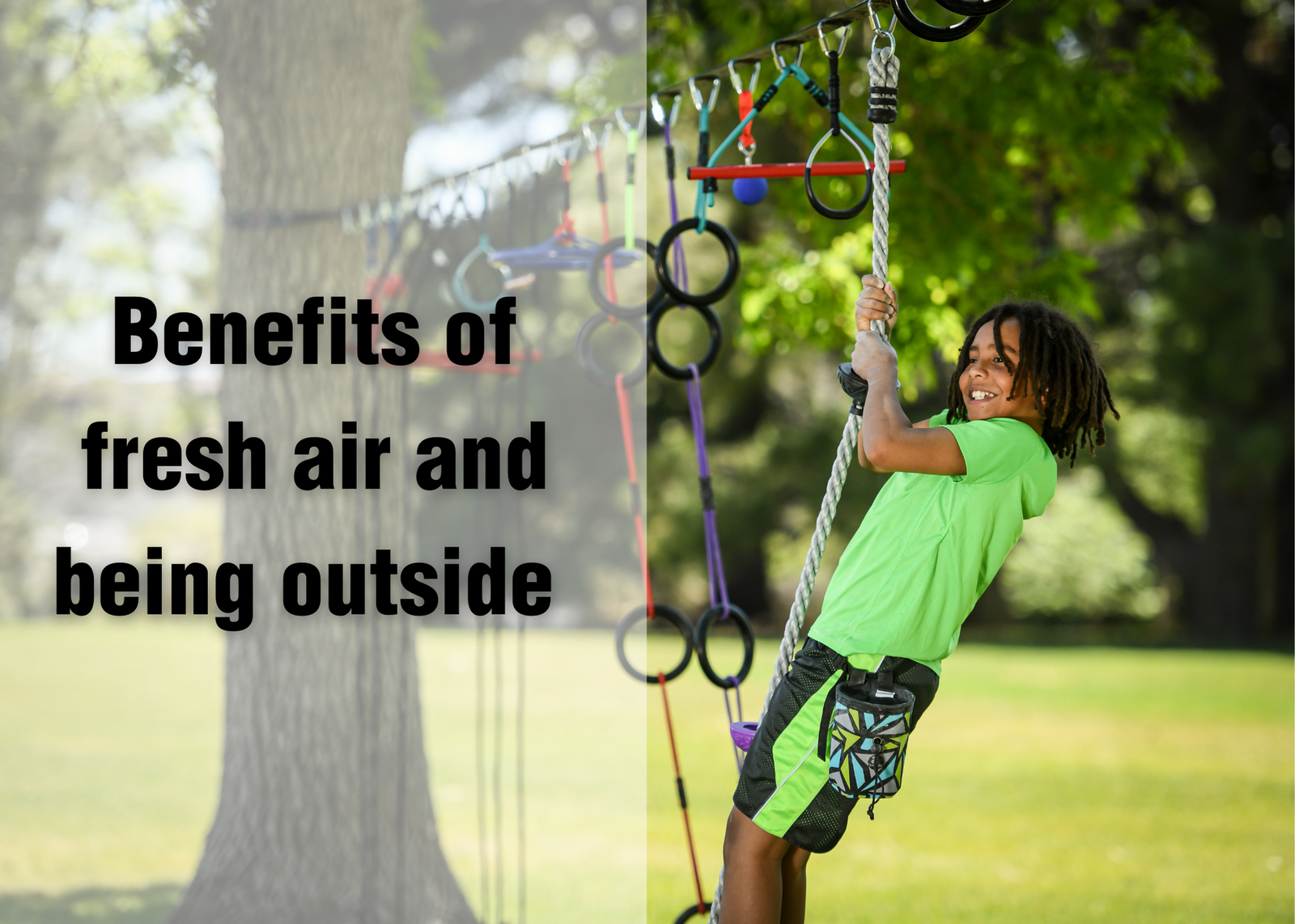 If there is anything we have learned from the last 2 years, it is the benefits of fresh air and being outside. Did we really need a global pandemic to teach us this?
No. Please no. But experts for years, way before we even knew what the term "social distancing" meant, have been telling us to get children (and ourselves) outside.
As an Early Childhood Educator, I could list SO many benefits of outdoor play. Outdoor play provides ample opportunities for children to gain motor strength, core strength, motor planning, spatial orientation, balance, fosters friendships, turn taking. The list is endless.
But I would argue, the biggest benefit of outdoor play is the change in the adult.
Yep, the adult. Being outside changes the way we interact with children.
Many times, when we are outdoors with children, we are observing from a distance. Whether children are running ahead on the trail, navigating the new park's play structure, or playing on a ninja line in a backyard, an adult may allow a child more space. This space is critical to one of the biggest benefits of outdoor play.
Outdoor play fosters and encourages children and adults to enjoy and benefit from unstructured play. This is the essence of the work of a child. Unstructured play is when a child learns they are capable.
Children are able to own their experiences, capable of being creative, capable of being curious, capable of getting their needs met, capable of problem solving and probably most important, capable of taking on appropriate risks.
When children feel capable, when they feel confidence from the adults in their life, children are transformed.
When children feel capable, anything goes. They will be more creative, and curious. They will be more willing to try new things, take on appropriate risks, which will create children more competence and confidence in themselves. The bigger the perceived challenge, the bigger the satisfaction the child experiences when completing it.
All of this from being outside…yes…all of it.
Meet our Brand Ambassador Gina Geller!
Gina has been an Early Childhood Educator for over 20 years. She has been a Lead Teacher for every age and stage from 18 months to PreK. In addition, Gina has been a teacher educator speaking at many teacher training sessions and conferences. Gina thrived and absolutely loved being a Curriculum Coordinator, Summer Camp Director, STEM teacher and Kid Yoga instructor. Currently, Gina has been operating her own business, Mrs. Gina LLC in response to the Covid 19 pandemic. Currently, she is a Pod Teacher and a Private Tutor for children ranging in age from 2 to 10 years of age. She specializes in 21st century skill based experiences which foster critical thinking, curiosity, creativity, communication skills, and collaboration. Gina firmly believes that children need and deserve unstructured time to foster these essential skills, an ability to take healthy risks to gain a sense of self, and as much time outside in nature as possible. Gina lives in Colorado with her husband Jeff, enjoys yoga and walking her dog Ally. She has 2 grown children, Marlena and Ethan.
---