How to Hang a Swing From a Tree (The Best Way)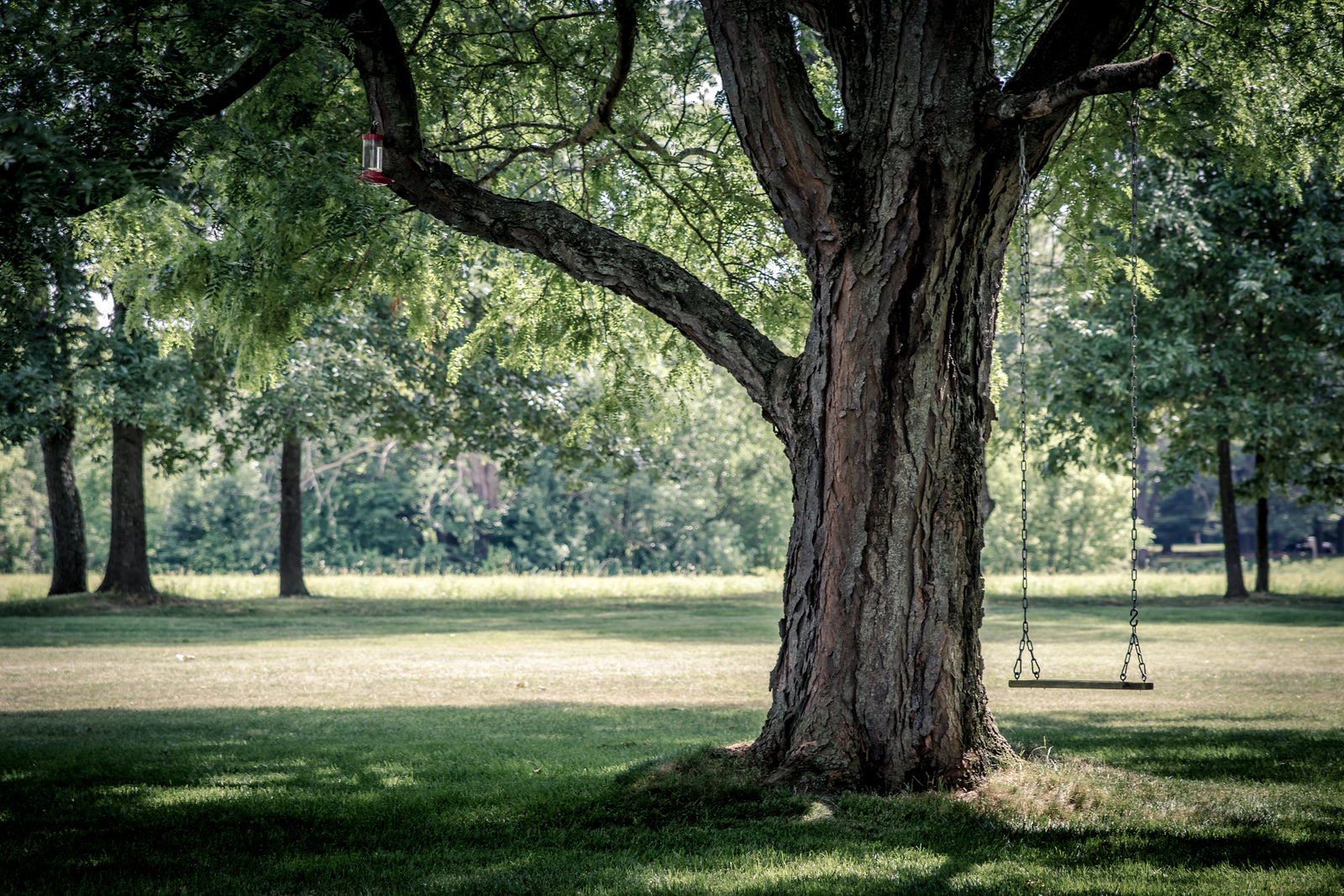 It's every kid's birthright to swing from a tree in their own backyard, right? As a parent, you have had "setting up a swing" on your bucket list since the day your little one came into the world. But now that you think about it, do you know how to hang a swing from a tree?
You might not know this, but there are actually right and wrong ways to hang up swings. If you do it wrong, the swing won't last and you can kill your tree. You want to do it the right way, your kid deserves it! That's why we've created this guide. Keep reading for how to hang a swing from a tree, the best ways. 
How to Hang a Swing From a Tree (Old Method)
There's nothing wrong with going the old route. If you just want a traditional swing put together with one tree, connectors, and/or hardware, this option is for you. Carefully read the steps below to ensure you set up your swing for longevity and safety.
Step 1: Find a Suitable Tree
Choose a healthy, sturdy tree with strong branches capable of supporting the weight of the swing and the kids using it. Look for branches that are at least eight inches thick and free from cracks or signs of decay. You also want to make sure there are no nearby obstacles or hazards that could interfere with the swinging motion. This can cause accidents and harm anyone using the swing.
Step 2: Secure the Branch Connection
Throwing a rope over a branch and tying it tight is not a good way to hang a swing. This will cause damage to the tree and eventually kill it. You want your swing to last a long time. Here are a couple of permanent options for connecting your swing to a branch.
Eye bolts.

This method uses hardware called eye bolts that look like hooks with screws on the end. To start, use a measuring tape to mark the spots on the underside of your tree branch where you will install the eye bolts. Be sure your marks are as wide as the width of the seat on the swing. Using a drill bit that's slightly smaller than the diameter of the eye bolts, pre-drill holes at the marked spots on the tree branch. (This will make it easier to install the eye bolts and reduce the risk of splitting wood.) Insert the eye bolts into the pre-drilled holes and hand-tighten them. Then, use a wrench or pliers to fully tighten the eye bolts securely.
Hanging straps.

If hardware and tools aren't your forte, purchasing hanging straps will be the easiest option for you. Tree swing hanging straps can quickly fit over a branch. They are also wide enough to not strangle the tree, causing the branch to die later. Swings that have two ropes need two hanging straps. But

some swings

only have one rope, where a

special hanging strap

is needed. 
Step 3: Hook Up Your Swing
Some swings don't automatically come with connectors. If this is the case for you, find S-hooks or quick links to connect the swing's ropes or chains to your new eye bolts or hanging straps. Then test it out and swing away!
Putting a swing up should be easy. Thankfully, there are new swings out there that don't require buying three separate pieces of hardware or heavy-duty tools. As a parent, you don't have time for that. Try out this new swingline method for hanging a swing from a tree. P.S. This kit comes with everything you need to do the swingline method!
Step 1: Find Two Trees
You're going to want to find trees positioned semi-close together but no more than 30 feet apart. They should be healthy, strong, and have a trunk at least 12 inches wide. This will ensure stability for long-term swinging.
Take your strapline like the one from the Bolder Play Swingline set and attach each end of the strap around your tree trunks, creating one line between both trees. Connect them with ratchets. Tighten as much as you can until the line is very taught and strong.
Step 3: Clip on
Swings
Then just clip on swings using carabiners. Swing set kits like the Slackers Swingline make it super easy for parents because they include everything buyers could possibly need to set the whole thing up within 30 minutes. Ours not only comes with 2 swings, but other fun options like gym rings and monkey bars. It's basically like a deluxe swing set, without all the extra work!
The Slackers Swingline is a perfect choice for parents who don't want the headache of putting up a traditional swing. With two swings, monkey bars, and gym rings to choose from, your kids will have endless amounts of fun on this playset. You can set up this set in just 30 minutes, and it is made of material that won't harm your trees. It even comes with a carrying bag so you can easily bring it with you to the park, camping, grandma's house, wherever!
Check out this recent review:
"Beyond worth the money! It is set up easily (by myself in less than 10 minutes… although it would be easier to have two adults for the ratchet part), and has already provided hours of entertainment. More sturdy than I was expecting and so cool to be able to swap the swings/bars/rings around as we try to figure out the perfect arrangement. I don't know why anyone would want a bulky permanent swing set when you could have this!" 
We specialize in outdoor toys and games for kids. Bolder Play products inspire new adventures, challenge children physically and mentally, and encourage outdoor family activities. Want other out-of-the-box exciting swings for kids? Check out all the Bolder Play swing options!
---