10 Activities To Add Adventure To Your Holiday Gathering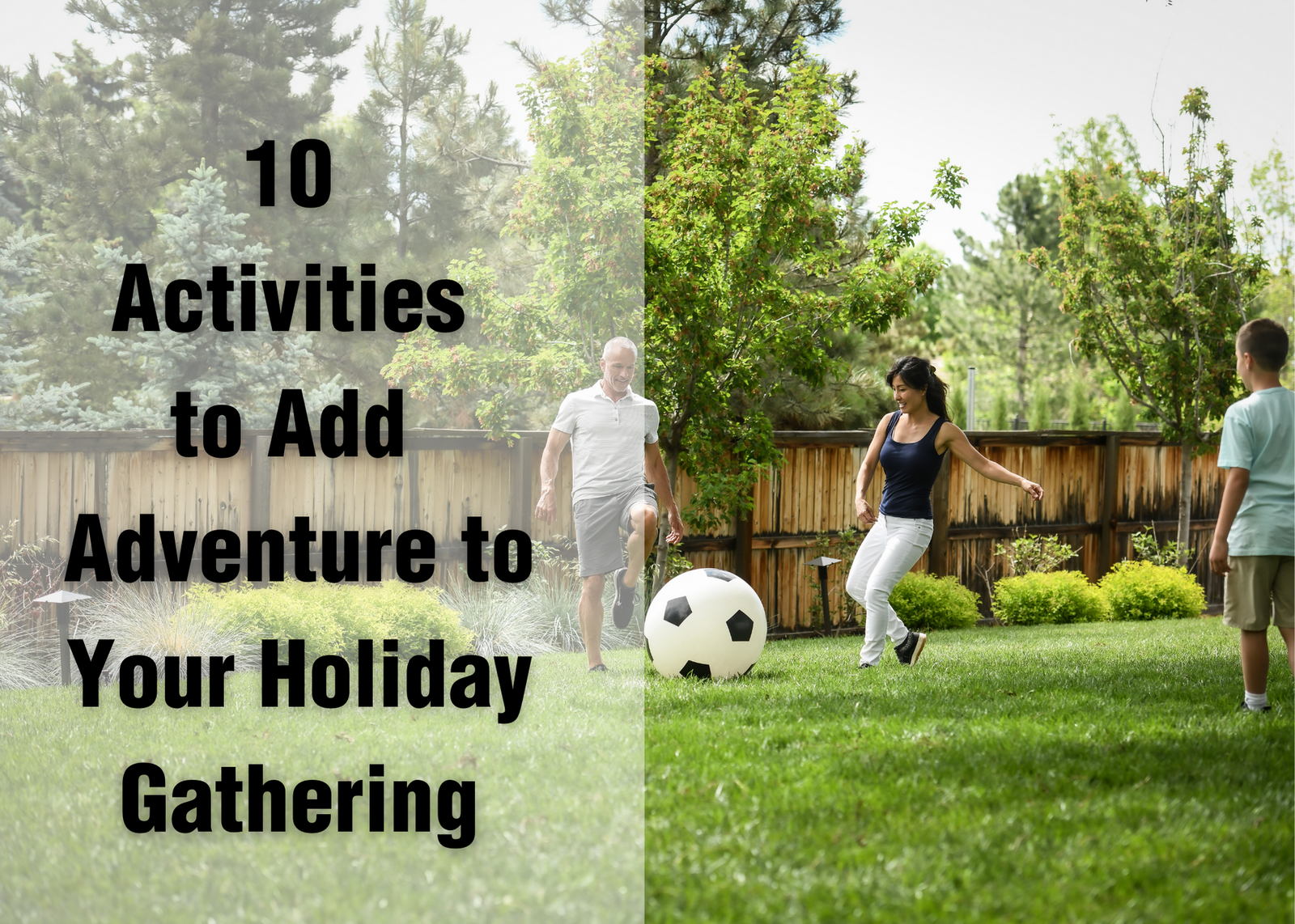 Make this year's holiday gathering one for the books! No matter what age your guests are, we are sure that some of the activities are the perfect way to entertain them. Whether you are looking to set up a kids zone in the backyard or a way for adults to sip on refreshments and mingle over a yard game, we've got ideas for you. Here are 10 ideas we came up with for you to add a bit of adventure to your party this year...
1. ChangeUp - The Ultimate Tossing Game!
Cornhole is the go-to backyard entertainment game. It is simple for all ages and great to mingle and play! This unique twist on the game comes with 3 different front and back game boards. Take your pick from classic Cornhole, Poker, Football Frenzy, Tic-Tac-Toe, Skee Bag, and Shuffelboard. With 2 sets of bean bags, you can play head to head, teams of 2, or even set up a tournament with prizes for guests to be won! Entertain all day and night long, indoor or outdoor, with this fun and simple twist on an old time favorite!
Let your most adventurous guests feel the crisp and cool breeze as they cruise through the backyard using our zipline! It only takes two trees and the spirit of adventure to start ziplining in the back yard. Install with confidence knowing the #1 U.S. Zipline company has time tested, high grade components for strength, reliability and longevity, AND full warranty policy.
The Spring brake kit provides an easy end to an exhilarating ride. The rubberized stoppers at each end protect the line, the trolley and the rider will no doubt feel the smooth finish to an exhilarating ride! Safe fun for kids and adults under the 250lb. weight limit!
3. Slackers Ninjaline Intro Kit
Your party guests will be training like real ninjas with the 36' Ninjaline intro kit! The 36' Ninjaline includes 7 hanging obstacles, 14 double-sewn durable pockets to customize the arrangement of obstacles as well as add on additional ones like a Ninja Net, Climbing Rope, or Spinner Wheel! Luck enough to have a bigger backyard? This ninja course comes in the 56' Ninjaline Intro Kit with an extra obstacle and even more room for add ons!
4. American Ninja Warrior Obstacle Course Race Set
How to - entertain a house full of junior ninjas! This exclusive American Ninja Warrior™ bundle is the perfect set for any backyard ninja in training! Start with jumping from stone to stone, challenging their balance and agility. Then pick up a hula hoop, and get the hoop around and around 5 or 10 times, or keep it going for 10 seconds without falling! Last, hop your way across the finish line using a bounce ball. This 3 in 1 kit goes great with any of the other American Ninja Warrior obstacles to create an even bigger course! Keep them entertained for hours. Winner gets first pick from the dessert table! 
5. Slackers Adventure Treehouse 
Are you lucky enough to have a huge family with tons of kids? Holiday parties are some of the few times a year to get all of the cousins together, and oh, what special memories that can create for them. Put up a Slackers Treehouse, and watch them run and play for hours in the backyard, making up games and experiencing true backyard adventure...all while the parents are warm and cozy enjoying the food and drinks inside!
6. Inflatable Jumbo Soccer Ball
No matter the range in ages of guests at your holiday gathering, the 4Fun Jumbo Soccer Ball can easily add some fun and excitement to your gathering when you get a backyard scrimmage going! It's easily inflated with the included air pump and can be deflated once everyone goes home. Its jumbo and its SUPER bouncy - it will surely be a hit!
8. Obstacle Course Competition Set
Race cousin Cindy! Beat Uncle Tom!
Racing has never been this fun! Go head-to-head or build teams to compete like a real ANW contestant with a timed competition. The race set includes two (2) 30" x 20" reinforced hop sacks, eight (8) 14" agility rings with dual use connectors, and three (3) adjustable height hurdles.
Throw in the ANW Timer for an extra thrill at the finish line!
Ready, set, RACE!
The Cosmic Golf Set is sure to be a hit with the kids and adults and is perfect for holiday parties because you can set it up inside or outside! If it is a chilly night, set the obstacles up around the room and let guests challenge each other in put put. If you have a basement, you can set up the whole kit, black lights and all for a fun Glow in the Dark version. This would be another fun way for guests to win prizes!
10. 4Fun Wicket Kick
Wicket Kick or Jumbo Kick Croquet is our favorite low cost, highly recommended way to entertain family! For just $29.99 and a quick 5 minute set up, you can have a fun family game of jumbo croquet playing this unique way that requires you to use your feet! It's easy to play with a drink in hand and a great way to get everyone involved!
Happy Holidays from the b4Adventure family of brands! We hope to help bring family fun and adventure to your gatherings this year! Cheers!
---