38 Facts and Statistics You Should Know About Keeping Kids Active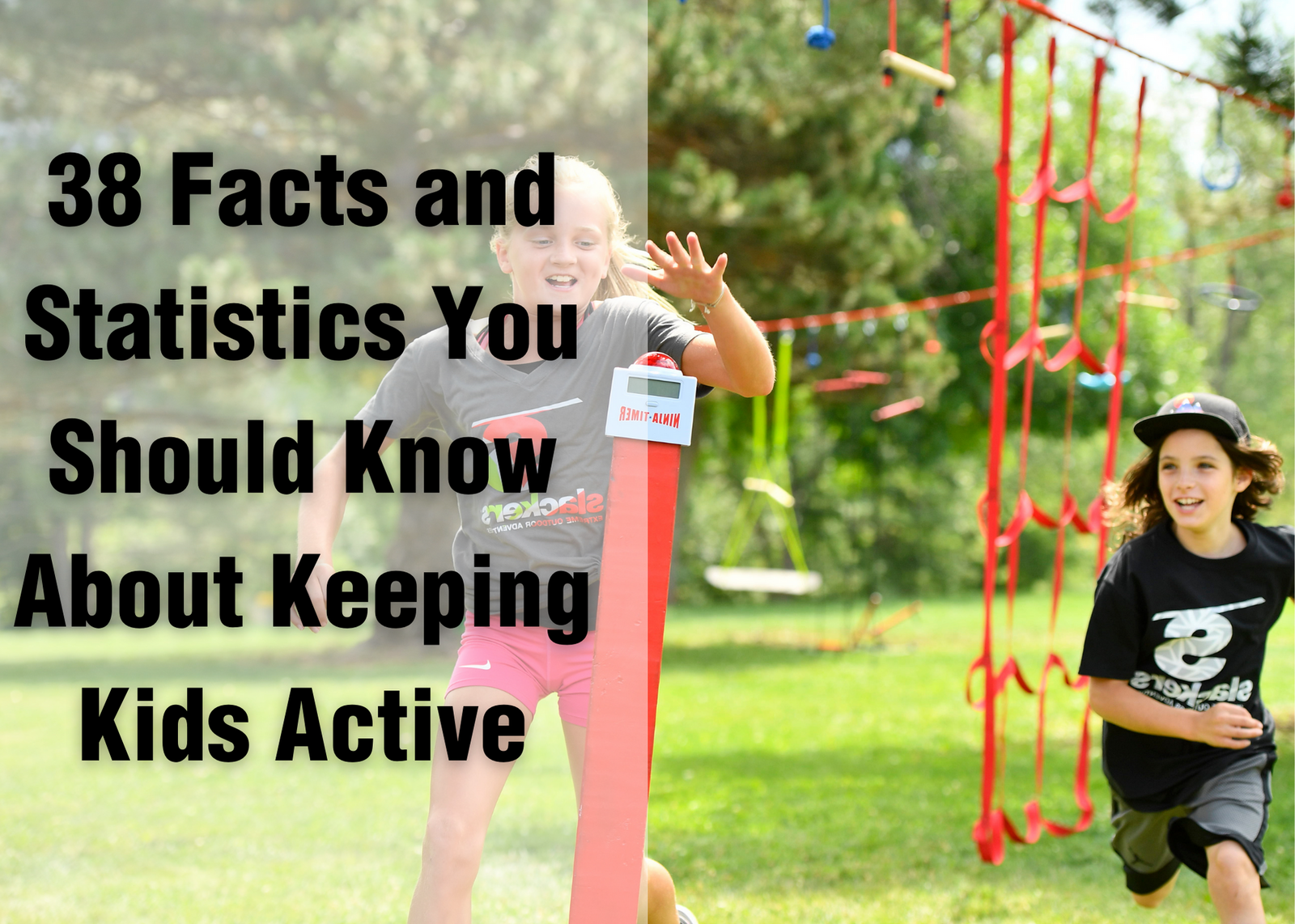 We all know keeping children active is important, so we put together 38 really important facts and statistics from 12 different sources to help you figure out:
1. how long your children should be active throughout the week;
2. what is considered to be "active"; and
3. how they will benefit from it!
How Often Should Children Be Active
Guidelines from the Department of Health and Human Services say that children and adolescents age 6 and older need at least an hour a day of moderate or vigorous physical activity (vigorous activity should be included at least three days a week).
School age kids and teens (6-17) should aim for at least 60 minutes a day of moderate- to vigorous-intensity activity


Children 3-4 years of age should spend at least 180 minutes in a variety of types of physical activities at any intensity, of which at least 60 minutes is moderate- to vigorous intensity physical activity, spread throughout the day; more is better.
Children should also participate in muscle-strengthening and bone-strengthening activities at least three days a week.
Children now spend more than seven and a half hours a day in front of a screen (e.g., TV, videogames, computer)
Only one in three children are physically active every day


Parents of preschool age children (3-5) should aim for about 3 hours per day of a variety of activities (light, moderate and vigorous)
Physical Activity Behaviors of Young People
only 24% of children 6-17 years of age participate in 60 minutes of physical activity every day
In 2017, only 26.1% of high school students participated in at least 60 minutes per day of physical activity
In 2017, 51.1% of high school students participated in muscle strengthening exercises (e.g., push-ups, sit-ups, weightlifting) for 3+ days of the week
In 2017, 51.7% of high school students attended physical education classes in an average week, and only 29.9% of high school students attended physical education classes daily.
What is considered to be "active"?
Incorporating physical activity into your child's daily routine sets the foundation for a lifetime of fitness and good health
Moderate-intensity activities also make children sweat more and breathe a little harder but they can still talk while they move their bodies such as fast walking or a bike ride.


Activities that strengthen muscles and bones can include jumping rope and running, or sports like tennis and basketball.
Encourage your child or teen to be active every day, by walking or cycling to a friend's house, skipping rope, or playing in the backyard or nearby park.
Daily physical activity can include free play, games, sports, walking, cycling
Only 1 in 6 children are active for 60 minutes every day
Only 1 in 4 are active across the week, but don't do 60 minutes every day
Children aged 9-12 are the most active every day
20% of boys and 14% of girls are active every day - the gap between girls' and boys' activity levels widens from the end of primary school
How children will benefit from consistent active play
Physically active kids also are more likely to be motivated, focused, and successful in school. And mastering physical skills builds confidence at every age.
Other benefits include improved aerobic fitness, muscle strength and endurance in children ages 6 to 17, improved bone health and weight status in children ages 3 to 17, and reduced risk of depression in children ages 6 to 17.
Incorporating physical activity into your child's daily routine sets the foundation for a lifetime of fitness and good health
Active kids are more likely to:

have up to 40% higher test scores
15% more likely to go to college
Have 7-8% higher annual earnings
Have lower health costs
Be more productive at work
Have reduced risk of heart disease, stroke, cancer, diabetes
Children ages 6-13 can also have improved cognitive function, such as thinking and memory skills, with regular physical activity.


Insufficient physical activity is a key risk factor for noncommunicable diseases (NCDs) such as cardiovascular diseases, cancer and diabetes
More than 80% of the world's adolescent population is insufficiently physically active
Not getting enough physical activity can lead to:
energy imbalance (e.g., expend less energy through physical activity than consumed through diet) and can increase the risk of becoming overweight or obese
higher risk of cardiovascular disease, including hyperlipidemia (e.g., high cholesterol and triglyceride levels), high blood pressure, obesity, and insulin resistance and glucose intolerance
higher risk of developing type 2 diabetes
higher risk of developing breast, colon, endometrial and lung cancer
low bone density, which can lead to osteoporosis
Vigorous-intensity activities make children sweat and feel "out of breath," so that they can only speak a few words between breaths. These can include activities like running and swimming fast or for a long time.
An estimated 6.4 million children between the ages of 4 and 17 have Attention Deficit Hyperactivity Disorder (ADHD), according to the Centers for Disease Control and Prevention. Studies have shown that green outdoor settings appear to reduce ADHD symptoms in children, which includes the exposure they get to natural settings like parks and beaches through weekend and after-school activities.
Our most popular products for keeping 3-5 year olds active:
Our most popular products for keeping 6-9 year olds active:
Our most popular products for keeping 9+ year olds active:
American Ninja Warrior Competition Set
Sources:
https://www.hhs.gov/fitness/resource-center/facts-and-statistics/index.html
https://www.mayoclinic.org/healthy-lifestyle/fitness/expert-answers/kids-and-exercise/faq-20058336
https://www.bbc.com/news/health-46456104
https://www.aspenprojectplay.org/kids-sports-facts
https://kidshealth.org/en/kids/stay-healthy/?WT.ac=k-nav-stay-healthy#catfit
https://www.who.int/news-room/detail/24-04-2019-to-grow-up-healthy-children-need-to-sit-less-and-play-more
https://www.who.int/news-room/fact-sheets/detail/physical-activity
https://www.cdc.gov/healthyschools/physicalactivity/facts.htm
https://www.heart.org/en/healthy-living/fitness/fitness-basics/aha-recs-for-physical-activity-in-adults?gclid=Cj0KCQiAxrbwBRCoARIsABEc9shqqYhKzzps-O40ol-hh3YGCiogOusKOXuP667-wGxZkegr8hjQlYQaAlzBEALw_wcB
https://www.heart.org/en/healthy-living/fitness/fitness-basics/aha-recs-for-physical-activity-in-kids-infographic
https://www.caringforkids.cps.ca/handouts/physical_activity
https://www.care.com/c/stories/4178/5-health-benefits-of-kids-playing-outside/
---