Top 10 Adventurous Slackers® Christmas Gifts to Keep Kids Active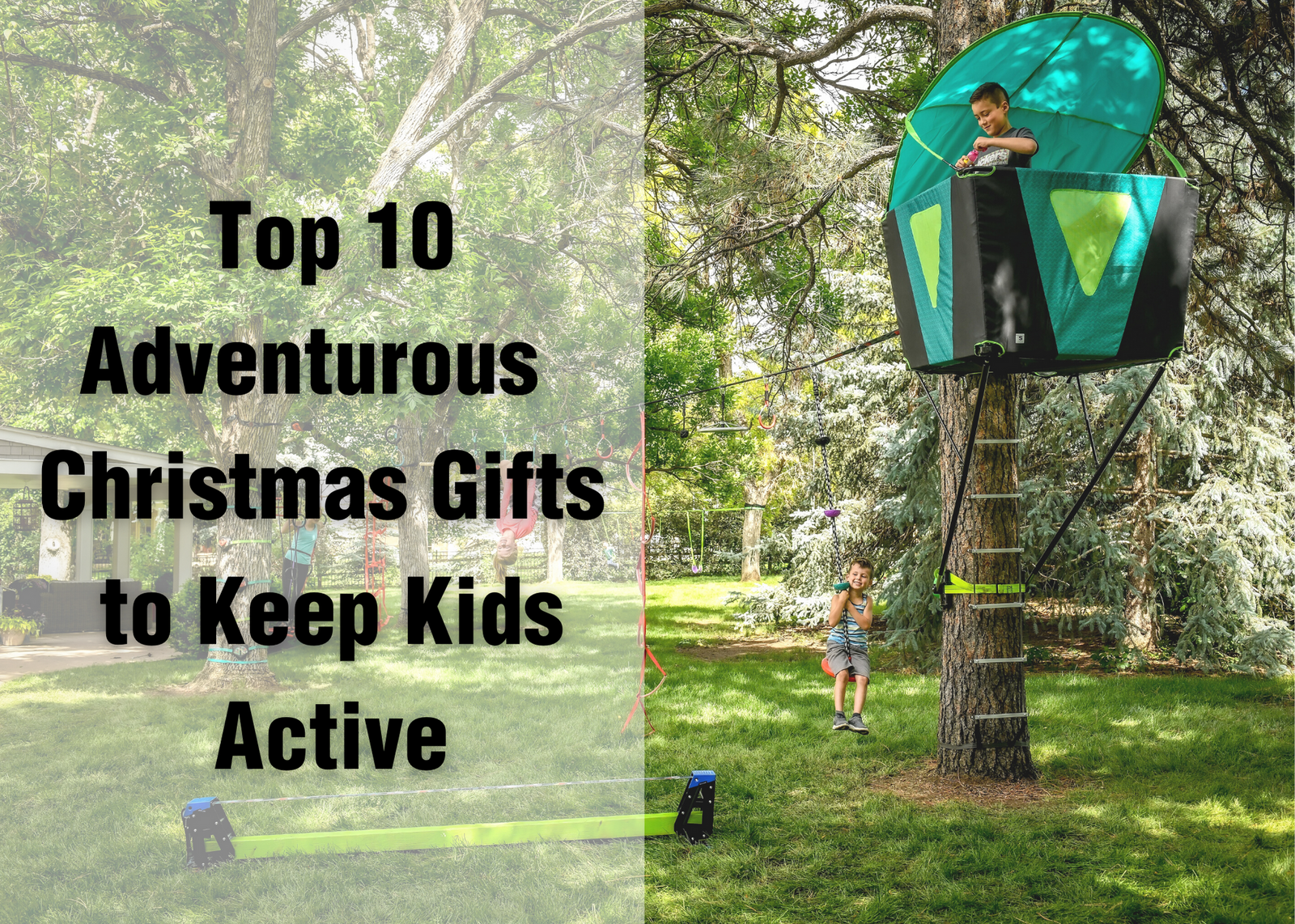 Wow! What a year it has been. Can you believe we are approaching the 2020 holiday season? This year has certainly looked different for everyone. It is probably safe to say that we are all feeling what a loss it has been for kids to miss out on so many of the magical parts of childhood that we remember and hold so close to our hearts. Things like summer camps, in person learning, recess, birthday parties, and trick-or-treating feel like a part of the past now.
Many of us are wondering, will we ever go back to the "norm" we remember? Some say that the kids don't know any better, and that may be somewhat true. The Slackers team sees an opportunity to continue their mission of bringing families together to enjoy the outdoors and embrace the active lifestyle at a time where it feels as if everything else has come to a halt. It is time to adapt!
We are encouraging everyone to consider giving the gift of adventure this year to help Slackers bring the thrill of the outdoors to family homes everywhere! So, are you looking to knock this year's Christmas out of the park to end the year on a high note? The results are in, and we want to share everything we know about the top ten Slackers Christmas gifts for the little adventurers and outdoor enthusiasts in your life!
Here is a Slackers round up of the top ten items, their top features and why adventurous kids around the world will love them!
The Slackers Adventure Treehouse is one of a kind. There is nothing else like it on the market! The treehouse promotes so many different kinds of play – active, creative, imaginary, independent and educational! Give the kids a small taste of the outdoor life. It is the perfect addition to their backyard adventure!
Top Features:
Gives them

the backyard of their dreams! What kid

doesn't

want a treehouse?!

Holds up to 500

pounds

- the

perfect hangout spot for the

m A

ND their

crew!

Safe and durable!

Made from thick, double walled, UV-resistant,

w

ater-

resistant, tear

proof nylon

for a safe and reliable place to play amongst the trees!
The Build-A-Branch is the perfect solution to a problem that families everywhere have pondered for years. You can turn any tree in to a swing tree! Pair it with an Adventure Swing, Adjustable Sky Swing, Dreamcatcher Swing or Twister and watch the kids swing and play all day!
Top Features:
Turns any healthy tree into a swing tree!

360

-

degree

swivel to allow for full motion swinging, swaying and

spinning

!

Holds up to 500

pounds

for multiple kids to

swing

at once

.
Slackers are the leading zipine sellers in the U.S. We have never met a kid that doesn't love the adrenaline rush that comes with flying from tree to tree on a zipline! This is the ultimate way to Play in the Air!
Top Features:
The most thrilling

adventure

s

right in your backyard

with a bonus glow in the dark seat

!

Equipped with spring

brake

for ease of stop at end of the ride

Zip quick for easy set up and take down

so the quality of your kit can last longer!
Ninja warrior competitions are all the buzz right now! Kids and adults are joining gyms, competing for medals, and following along with all of their favorite real life ninjas on TV. The Slackers Ninjaline intro kit is essentially a playground between two trees that brings all of the excitement, gear and challenge you need to train to be the strongest ninja you can be!
Top Features:
Award winning kit designed by the inventors of

the

ninjaline

.

Compatible with popular add on obstacles such as the rope ladder, climbing rope, and rickety bridge!

Builds full body strength, agility and endurance for anyone that is looking to

stay

active,

train for a ninja competition, or who just

wants

to

have fun and play in the air!
Beat the giggles and burn some energy swinging and hanging! The Swingline creates a more inclusive way to play around the concept of the Ninjaline and allows young kids to get started even earlier enjoying the outdoors and learning to ninja!
Top features:
Pop up

playground

for your backyard

- swings, monkey bars and slackline

included!

Perfect for youngsters

working on building enough

strength for the

N

injaline

™

Includes Ninja grip clips to create pockets on the slackline to hang additional obstacles from!
The Skate swing provides one of the most versatile ways to swing by combining the love of board sports, swinging in the air, and the adventurous outdoors. It uses full body engagement to balance and swing at the same time.
Top features:
Combines the two super fun activities of swinging and skate boarding!

Hang

s

from a tree,

N

injaline

or sturdy playset

Builds balance and core strength
Slacklining is a popular sport that focuses on balance, agility, concentration and core strength and stability. Learning to slack takes patience and can be a physical as well as a mental challenge. It is a cornerstone to the Slackers brand...it's in the name!
Top features:
50' to walk and learn to balance like a pro

and build core strength
Includes bonus teaching line for beginn

er

s to use as a guide when learning to balance

Storage bag

backpack

to take on the go to the park,

camping..

.

anywhere

!
Last and little

,

but

certainly

not least -

Stocking Stuffers!
8. Gym Rings
A ninja favorite! The gym rings are one of the most popular obstacles to add to an existing Ninjaline course!
9. Ninja Fists
Another ninja favorite and a great way to train little hands to improve their grip strength.
10. Ninja Cones
The Ninja cones are included with our Pro-Kit but are compatible with any of the Slackers Ninjaline kits. They don't call it pro for nothing! The cones are a more difficult obstacle for anyone looking to take their skills to the next level.
---