7 Summer Birthday Party Ideas: Easy, Affordable, & Fun!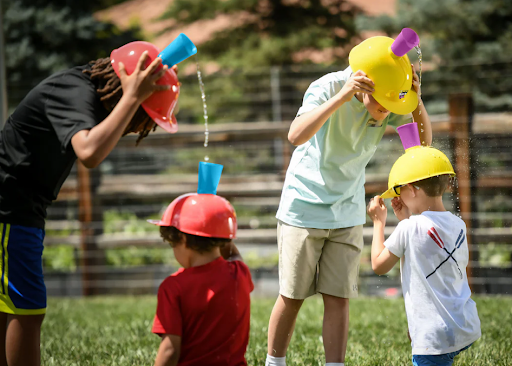 Summer is finally here, which means it is time to celebrate all the summer babies! Is there really anything better than throwing a party in the open air and staying outside forever because the sun never seems to set?
Keep reading for our Top 7 Summer Birthday Party Ideas!
When it comes to summer parties, one of the easiest and most enjoyed by all—parents and children—is a picnic with some classic yard games. Slice up some watermelon, lay out a platter of cheese, meat, and bread for sandwiches, and stir up some classic lemonade. Oh, and don't forget the cake! If it is especially warm (which, given the summer season, it probably will be), you might consider keeping the food inside or refrigerated until it is time to eat, though with most parties you can probably count on food being the first thing on everyone's agenda. 
Once everyone is fed, full, and happy, let the yard games commence! Our Lawn Launch game and ChangeUp: Beanbag Tossing Game are both perfect for summer picnics, as they both offer a variety of games within each simple kit that will be sure to keep everyone entertained for hours! 
Is the birthday kid obsessed with adventure and leaning to the more competitive edge of life? This birthday party idea is especially perfect for young kids who have endless energy—and let's face it, during the summer that is pretty much every kid. Whether or not the birthday child or any of their guests has seen American Ninja Warrior on TV, they are all sure to love the competition, adventure, and chance to test their recess monkey bar skills in an entirely new way.
We've made it easy for you to create a Ninja Warrior course with our Deluxe Ninjaline Kit and American Ninja Warrior Slackline. To make things even more exciting, you could have t-shirts for each kid that says "Ninja Warrior" so they can really get in the zone, and all the food can be geared towards fueling them for success on the course! And since kids love competition, there can be prizes for the quickest finishers, the most creative finishers, and the bravest finishers—just be sure to have prizes for everyone so everyone has a good time!
3. Giant Outdoor Game Night
Okay, okay, we know that our first two ideas were also games—but those were regular-sized! Now we're talking larger-than-life-sized games, such as our Jumbo 2-in-1 Chess and Checkers and Wicket Kick: Giant Kick Croquet. There are countless themes to explore with our jumbo sized games—Alice in Wonderland, when she shrinks and everything around her is huge; Jack and the Beanstalk, when he stumbles into the world of giants; and anything else you can think of!
4. Summer Birthday Party Ideas: Outdoor Movie Night!
Movie nights are quintessential, and once the outside air is warm enough to enjoy at night, then outdoor movie nights it is! Keep in mind that during the summer, since the sun sets so much later, it might be harder to see a movie projection until a later hour, so this idea might be better for older kids (who will be thrilled for any reason to stay up a little past their bedtime). Of course, everyone will want to be cozy and comfy for the movie, so be sure to have lots of blankets and pillows, and invite guests to bring their own so there are enough for everyone! To make things really comfy, consider having a few swings for people to sit in! Our Ultimate Sky Chair and Adventure Sky Swing are some of the crowd favorites, and you can check out our website for an even wider selection!
There are few things that everyone loves more than mini golf! If you aren't close to a mini golf course (or even if you are, but want a more intimate setting) then our mini golf sets are perfect for you! Before you begin the game of golf, take time to teach the kids different golf terminology—they'll love the feeling of learning something new and becoming experts at something that they've possibly never tried before! 
We have a couple options when it comes to golf sets:
Cosmic Mini Golf

: This golf set is perfect for all ages to enjoy together. It comes with 5 obstacles, 5 holes with flags, golf balls, a putter, and more! If you're having a large number of kids over for the party, you could easily order multiple golf sets and set them all up together!

Deluxe Cosmic Glow in the Dark Mini Golf

: Similar in all important ways to the original Cosmic Mini Golf set, this Deluxe edition is glow in the dark—making it ideal for summer nights and even higher levels of fun and excitement!
6. Cool Off With A Pool Party And
Water Games
Of course, no summer birthday party is truly a summer birthday party without some water games! Everyone loves a pool party, but if you don't have a pool to go to, there are so many other games and water activities to enjoy! Our Ninja Warrior Ultimate Water Obstacle Set is perfect for heating things up with some fun competition while also cooling off! You could also have a water balloon fight or create a giant slip n slide—the possibilities are endless!
Even though summer nights stay light for sooo long, there is nothing more exciting than glow in the dark games to keep the party going after the sun sets! Bring out the glow sticks, invite your guests to wear neon, and keep playing long into the night! Our Zipline Night Riderz Kit is sure to be a hit at any time of day, but even more so when the sun sets and you can appreciate all the colorful lights as it flies by in the air. And if you want more of a group game, look no further than our Deluxe Cosmic Glow in the Dark Mini Golf set! 
---