7 Most Popular Outdoor Toys in 2020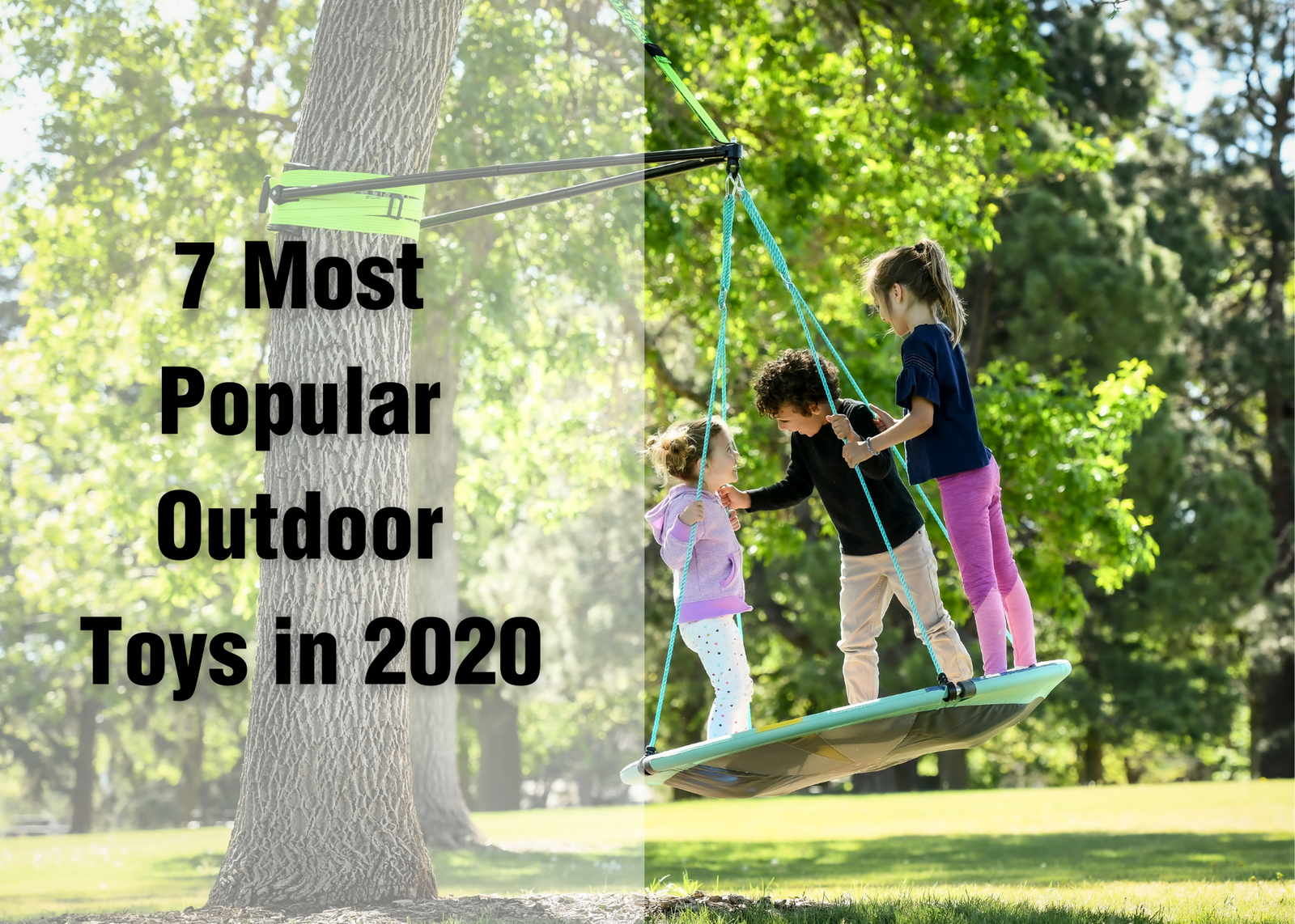 Did you know the toy industry grew 19% in the year 2020? This placed the industry in 2nd rank for the largest increase in sales during those "unprecedented" times we all know too well, right behind sporting goods and just ahead of home furnishings. The widespread stay-at-home orders, lock downs and transitions to distance learning fueled the jump in sales as parents so desperately wanted to keep their kids active, healthy and of course, happy in such a difficult and uncertain time.
Specializing in not just any kind of toy, but outdoor active toys gave the Slackers team an opportunity to be there for families all over that were looking for a way to bring the spirit of adventure to their homes when the whole world came to a screeching halt.
We are so lucky to have been able to build a connection with our loyal customer base. You have all spoken loud and clear, and these were your top 7 favorite Slackers items to bring home in 2020!
This comes as no surprise to us as this has been a favorite for years and years! The classic 56' Ninjalin Intro Kit is the perfect way to bring adventure, exercise, challenge and fun right to your yard. Great for kids (and even adults!) of so many different ages, the Ninjaline is a simple, yet unique way to bring the family together in the fresh air and sunshine.
After a long day of work and school at the kitchen table, who wouldn't love playing in the air amongst the trees?!
No branch? No problem! This was a brand new, one of a kind product, with nothing else like it on the market. Slackers saw a problem and found a solution and let us tell you... parents are all over it!
Who doesn't love swinging from their favorite tree? The only problem is, not every tree has a perfect branch to hang a swing from. Say goodbye to the days of wishing you had a tree swing, and say hello to the days of swinging, swaying and enjoying the fresh air just about anywhere you'd like, as long as you have one healthy tree!
Another brand new, one of a kind item that quickly found its way to the tippy top of not only the Slackers favorite list...but hundreds of trees around the country! Giving a new meaning to playing in the air, the Slackers Treehouse is a vision straight from every child's dreams. It is the ultimate hideaway and opens the door to a whole new kind of adventure. Let their imagination run wild in this backyard haven!
#4 Night Riderz 100' Zipline Kit
The Slackers Zipline collection brings the true feeling of extreme backyard adventure to the brand. Although the ziplines were one of the original Slackers items, they have come a long way in quality with new features that make set up simple and the ride smoother than ever! It is no surprise that the favorite from this line is the Night Riderz Kit. Light up your next ride with this set packed with LED lights so you can ride into the night!
After a few years on the market, the Skate Swing continues to take Playing in the Air to new heights! Soar through the air like a true boarder on this skateboard-swing combo! Featuring a non-slip deck and adjustable ropes, this is the perfect addition to the Ninjaline, any play structure or healthy tree!
Calling all lovers of skateboarding, snowboarding and surfing – take an epic ride through the air on this board built just for you!
While little adventurers everywhere are climbing trees, the tree climbers are climbing the charts. This set of 6 rock climbing holds with straps is a great way to climb up to your Ninjaline to start the course, or simply to get to the treetops for a good view!
The perfect gear for the rock climbers, hikers, and nature lovers in training!
Spoiler alert... an updated design with new features and even more fun to be had is on the horizon for 2021!
You know that saying, "An oldy but a goody?" This set of 2 Ninjaline Gym Rings are a forever favorite! They are simple, affordable and hung on thousands of Ninjalines around the world! Although each Ninjaline Intro Kit includes the rings, it seems to be the trend to add more to the line as an easy way to swing to the more challenging obstacles. 
Master these and you are ready to level up!
As always, we are so thankful for all the support from our Slackers family! We love to recap the year to see what you love most so we can continue to provide the best, most high-quality backyard gear to keep the spirit of adventure alive for families far and wide!
Play on, Slackers!
---