6 Games and Toys To Make Their Birthday Party Unforgettable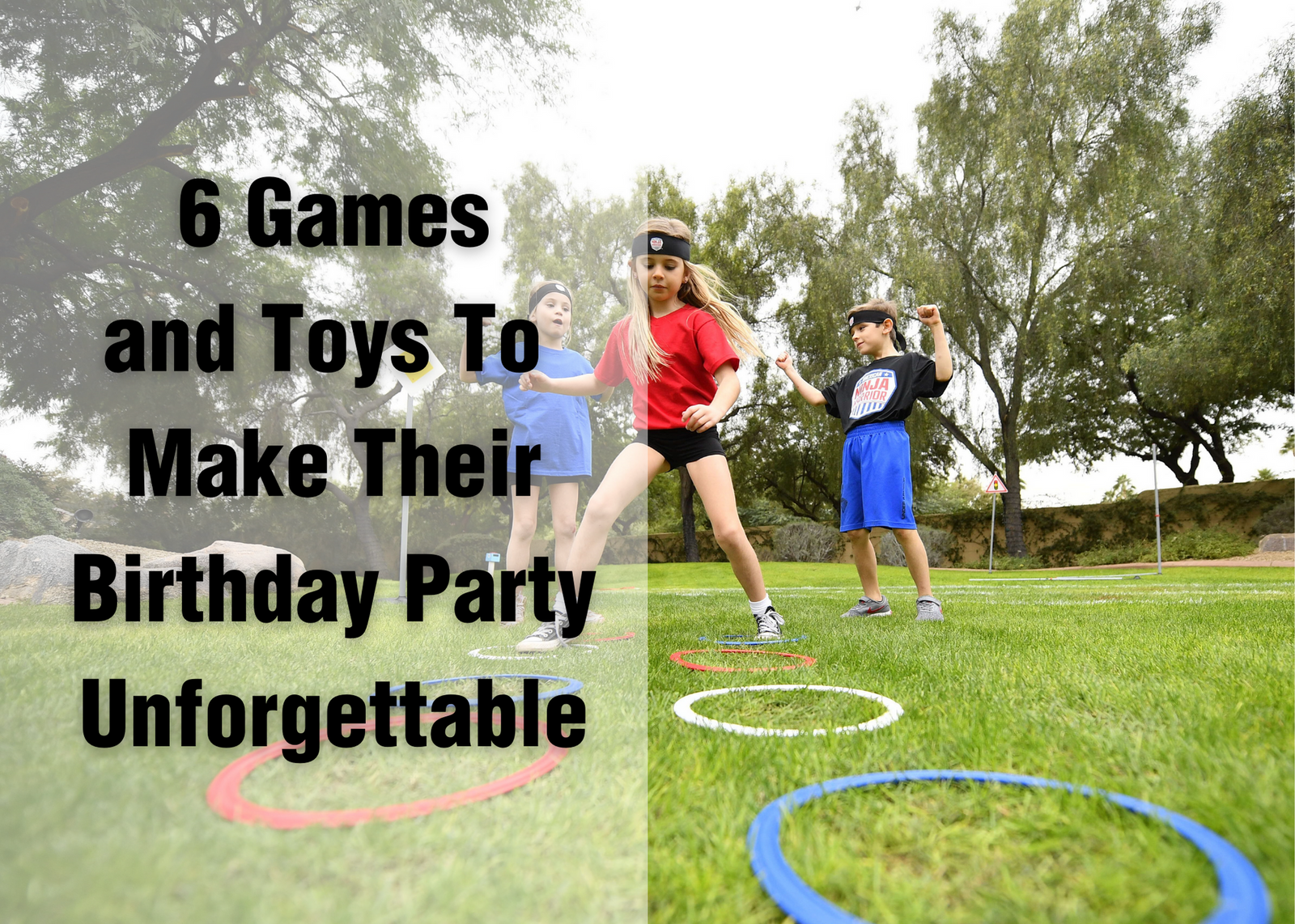 Hosting a birthday party at your home is often the less expensive route to take for celebrating your child's special day with their friends. However, it can also add some extra stress and pressure to make sure all the kids invited are entertained and have fun! Here is a list of 6 games and toys that will, no doubt, add a ton of entertainment to your party!
American Ninja Warrior Competition Set
The American Ninja Warrior Competition Set adds a thrill for any group of kids as they hop, crawl, jump and cheer each other on! This complete set is for ages 3+ and allows for dozens of different set-ups, so no matter the skill level, you can create a course for a birthday party to remember!
The set includes diagrams for suggested course set-ups, 2 hop sacks, 8 agility rings, 2 jump ropes, bear crawl posts, and over 150 feet of twine.
American Ninja Warrior Obstacle Course Race Set
Kids can put their ninja warrior training to the test with the American Ninja Warrior Competition Set. This complete 37-piece set allows for dozens of different set-ups so no matter the age or skill level, you can create a course!
This set includes two (2) 30" x 20" reinforced hop sacks, eight (8) 14" agility rings and 3 adjustable height hurdles.
Don't forget to add the timer and megaphone as well to make the races even more exciting for the kids!
Bring a miniature golf course straight into your backyard or living room with our 5-hole Cosmic miniature golf set! Choose from 3 different versions to suit the type of party you're throwing: glow in the dark, a 5-hole course with a green felt mat as well as the 5-hole course without a mat if you want to take it outside.
Each hole has a fun obstacle: a tunnel, ramp, zig zag or a moving windmill.
All 3 versions of the game include 5 obstacles, 5 tee mats, 5 holes with flags, 2 putters, 2 LED golf balls that glow in the dark and a storage bag (additional putters and golf balls can be purchased as well).
Get ready to hear endless giggling and laughter when kids play soccer with this gigantic bounce ball. See for yourself in this video!
This 30" bounce ball adds excitement to everyday soccer games for a few kids or even an entire team to scrimmage!
This combo zipline and spring brake kit is a safe and thrilling addition to the backyard for the kids to take turns and sail through the yard all afternoon and into the evening when it gets dark to see it light up! It's like bringing the amusement park thrills straight to your backyard!
The Zipline Night Riderz kit includes a 110 foot galvanized steel cable, an LED lit seat, a 10 foot adjustable rope with 4 blinking rope lights, silver steel trolley with rubber grip handles and 4 LED trolley lights, as well as all of the hardware needed in order to attach it to 2 trees.
Space Zone II Trampoline & Enclosure
A trampoline qualifies as a toy right? Even if it doesn't, the Space Zone II Trampoline is the perfect addition to your child's birthday! Get ready for a day full of giggles and fun!
Happy party planning!
---