7 Unique 3rd Birthday Party Themes for Kids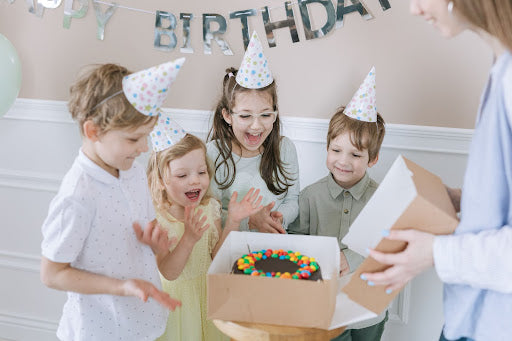 Your child's 3rd birthday is a special milestone filled with energy, curiosity, and a growing sense of wonder. To make this day unforgettable, it's time to think beyond the traditional birthday party themes. Whether your little one is into animals, adventures, or creative play, we've rounded up seven unique 3rd birthday party themes that will create cherished memories for years to come!
#1: Superhero Training Camp
Unleash your child's inner superhero with a Superhero Training Camp theme that promises action-packed fun. Create obstacle courses, agility challenges, and strength tests to help the little heroes-in-training develop their super skills. Make it easy for yourself by purchasing our Obstacle Course Race Set; it's a hit among the little ones!
Encourage kids to come dressed as their favorite superheroes or provide capes and masks for them to personalize and wear during the training activities. Create a superhero identity for each child and let them design their own superhero emblem as a creative craft activity.
To tie in the theme, consider organizing a superhero-themed cake or cupcakes and serving "power-packed" snacks like "hero sandwiches." 
#2: Dinosaur Dig Adventure
Transport your child to the prehistoric era with a Dinosaur Dig Adventure. This theme is perfect for the young paleontologist in your life. Transform your backyard or local park into a mini "dig site" where little explorers can excavate buried dinosaur toys. Provide shovels and brushes, and watch their excitement as they uncover ancient fossils!
Decorate the party area with dinosaur-themed decorations and create a "Jurassic Park" vibe with palm fronds and dinosaur footprints. Don't forget to serve dinosaur-shaped snacks and birthday cake, and consider organizing a "dino egg hunt" for added excitement!
#3: Under the Sea Exploration
Take your child and their little friends on an unforgettable underwater journey with an Under the Sea party theme. Create a magical underwater world with colorful fish, seaweed, and seashells as decorations. You can even use blue and green streamers and balloons to mimic the ocean's depths. Consider incorporating ocean-themed crafts, like paper plate jellyfish or decorating seashell-shaped cookies.
The kids would love to watch Finding Nemo or The Little Mermaid as their energy winds down! Don't forget "fish" themed snacks like goldfish, a fish-shaped cake, and other seafood-inspired snacks. 
#4: Space Adventure
Blast into the cosmos with a Space Adventure theme that will leave your child's imagination soaring. Create a space station in your living room or backyard with astronaut helmets and "rocket" craft activities. Kids can make their own paper plate rockets or even decorate cardboard boxes to resemble spaceships. You can also hang up glow-in-the-dark stars and planets to give the illusion of being in outer space. 
To make this theme educational, consider setting up a small "planetarium" area where children can learn about the solar system and the universe's wonders. A telescope for stargazing can be a real showstopper, allowing kids to peer into the night sky and discover constellations. Don't forget to serve astronaut-inspired snacks like "moon rocks" (cheese balls) and rocket dogs (hot dogs shaped like rockets). The Space Adventure theme will make your child's 3rd birthday a stellar experience.
#5: Farmyard Fiesta
Bring the farm to your doorstep with a Farmyard Fiesta theme that's entertaining and educational. Create a mini petting zoo with friendly animals like rabbits, ducks, or even a pony if space permits. You can rent a petting zoo or contact local farms to see if they offer mobile farm experiences. Ensure safety and supervision to make the experience enjoyable for everyone.
Decorate the party area with farm-themed decorations such as hay bales, bandanas, and cow-print tablecloths. Organize farm-themed games like "pin the tail on the donkey" or a sack race to entertain the kids. To complete the theme, serve farm-fresh snacks like apple slices, popcorn, and mini sandwiches.
For a fun and memorable touch, consider providing straw hats or toy tractors as party favors. The Farmyard Fiesta theme will entertain your little one and their guests and introduce them to the wonderful world of farm animals and rural life.
#6: Enchanted Garden Party
Transform your backyard into a mystical forest with an Enchanted Garden Party theme. This theme is perfect for nature-loving kids who enjoy fairy tales and magical adventures. Decorate the party space with fairy lights, whimsical flowers, and hidden treasures. You can create a magical ambiance with colorful paper lanterns and set up fairy-themed decorations like toadstool seats and fairy garden centerpieces.
Invite kids dressed as fairies, gnomes, or woodland creatures to immerse themselves in the enchanted atmosphere. Consider organizing a scavenger hunt for "fairy treasures" or magical items hidden throughout the garden. For added charm, you can set up a storytelling area where an adult or hired performer tells enchanting tales of magical adventures.
Serve snacks and treats inspired by nature, such as fruit skewers and fairy bread (buttered bread covered in colorful sprinkles). The Enchanted Garden Party theme will transport your child and their friends to a world of imagination and wonder right in your own backyard.
#7: Artistic Adventure
For the budding artist in your family, an Artistic Masterpieces theme is the perfect way to celebrate their 3rd birthday. Set up an art studio where kids can paint, draw, and sculpt to their heart's content. Provide canvases, watercolors, markers, and plenty of colorful paper. Encourage little Picassos to let their imaginations run wild as they create their own masterpieces.
Display their artwork on a "gallery wall" and let each child explain their artistic vision to the group. This activity not only fosters creativity but also builds confidence and communication skills. To keep the creative juices flowing, consider organizing a "cake decorating" station where kids can decorate cupcakes with colorful frosting and toppings.
To tie in the theme, you can use art-related decorations such as paintbrush and palette centerpieces or give each child a mini art apron as a party favor. The Artistic Masterpieces theme will be a fun celebration and a wonderful opportunity for your child to express themselves through art.
---