6 Creative 11-Year-Old Birthday Celebration Ideas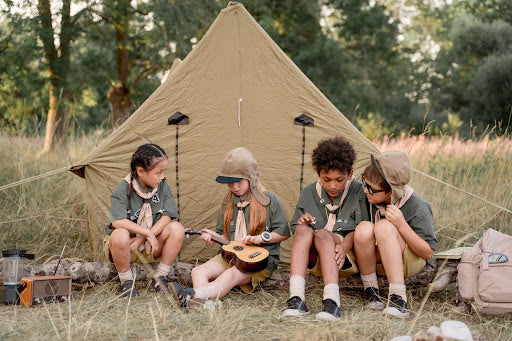 Hey there, party-loving pals! Get ready for an absolutely epic journey as we unveil not one, not two, but nine totally awesome birthday celebration ideas crafted especially for those fabulous 11-year-olds like you!
We know you're growing up fast, so we've picked out ideas that strike the perfect balance between the kid in you and the awesome almost-teenager you're becoming. Imagine this: a themed extravaganza that will transport you to a new world of excitement and interactive experiences! These ideas aren't just about having a good time; they're about having the best time ever!
#1: Outdoor Odyssey: Camping & Adventure Party
For our adventurous friends: it's your 11th birthday, and you're about to embark on an Outdoor Odyssey like no other–a Camping and Adventure Party right in your own backyard! Yep, you heard that right. You and your buddies will have a blast setting tents, making bonfires, and adventuring into the wilderness.
As the day turns into night, you'll go on scavenger hunts, tell scary stories around the campfire, and gaze up at the stars. Can you imagine anything more awesome?
If you want to take your party to the next level with the coolest gear, our Slackers Ningaline has got your back. Swing tree to tree with our epic adventure kit. So what are you waiting for? Get your Slackers Ningaline today.
#2: A Galactic Adventure: Space-Themed Extravaganza
Welcome your 11th year with a birthday party that's out of this world–a Galactic Adventure: Spaced-Themed Extravaganza just for you! A party full of interstellar games, alien encounters, and plenty of starry surprises. Your backyard will be transformed into a galaxy far, far away, and you and your fellow space explorers will have a blast. 
But what's a space adventure without a little zero-gravity fun? That's where the Bolder Play Space Zone II Trampoline comes in! Sour high above Earth, just like an astronaut in space with our out-of-this-world design. It's the perfect addition to your Galactic Adventure!
#3: Mystical Mayhem: Harry Potter-inspired Birthday Magic
My fellow wizards and witches, prepare for Mystical Mayhem: a Harry Potter-Inspired Birthday Party that will transport you to the mystical realms of Hogwarts. At this enchanting party, you'll be sorted into houses, cast spells, and other magical adventures.
But wait, the magic doesn't stop there! We present Wicket Kick: Giant Kick Croquet to you for a wizarding game as thrilling as Quidditch but firmly rooted on the ground. It's like playing Quidditch without the need for broomsticks. This magical croquet game combines the excitement of soccer with the strategic precision of croquet, creating a mystical sport that will leave you spellbound. Compete with your friends and see who can score the most goals while navigating enchanted obstacles!
#4: Superhero Spectacular: Unleash Your Inner Hero
Don your capes and masks because it's time for a Superhero Spectacular: an event where you can Unleash Your Inner Hero! Gather your super squad and get ready for an action-packed birthday celebration where you'll become the heroes you've always admired. With themed decorations, superhero games, and thrilling challenges, this party will make you feel like you have your own superpowers.
But what's a superhero without a little adrenaline-fueled adventure? That's where the Skate Swing comes in! Imagine soaring through the air, standing tall like a true superhero. The Skate Swing is your trusty sidekick, taking swinging to a whole new level. Its unique design will make you feel like you're gliding through the sky, just like your favorite caped crusaders.
#5: Treasure Hunt Bonanza: Pirate-Themed Adventure
Ahoy there, matey! Get ready to sail on a swashbuckling adventure with our Treasure Hunt Bonanza: Pirate-Themed Adventure! If you've ever dreamed of searching for buried treasure and living the life of a fearless pirate, this party is just for you. With pirate hats, eye patches, and a treasure map, you and your crew will embark on a quest for hidden riches. 
Create a daring adventure with our Climbing Rope. It's your companion on this adventure, making you feel like a real-life pirate scaling the rigging of a mighty ship. With each climb, you'll experience the thrill of being high above the deck, just like a fearless buccaneer. 
#6: Science Whiz Kid: Mad Scientist Birthday Laboratory
Welcome to the mad scientist's laboratory, where curiosity knows no bounds! If you're a Science Whiz Kid and your idea of a perfect birthday involves experiments, explosions (safe ones, of course!), and a dash of magic, then this Mad Scientist Birthday Laboratory is tailor-made for you.
Imagine donning your lab coat and safety goggles, surrounded by beakers, test tubes, and all sorts of mysterious concoctions. Your party guests will join you on a journey of scientific discovery, conducting cool experiments that will leave everyone in awe.
But what if you could take your experiments to a new level of awesomeness? Introducing the
LED Glow in the Dark Golf Balls
! These futuristic golf balls will add a touch of magic to your laboratory. They're not just for golf; they're a fantastic way to add excitement to your science experiments. Plus, they're a whole lot of fun!
---