How To Build Your Own At Home Climbing Gym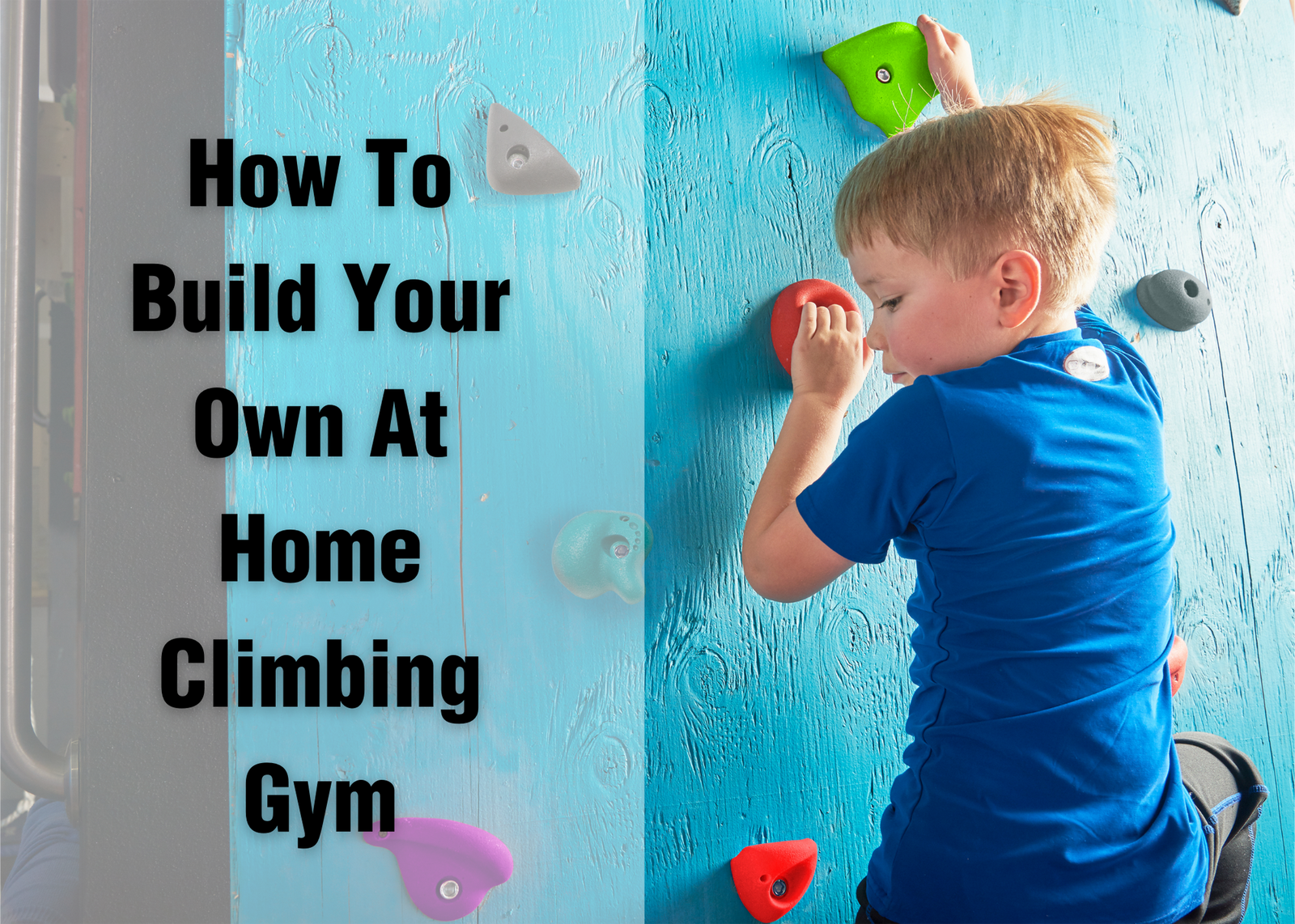 Those little ones; they love to climb on just about anything: furniture, trees, mom, dad, pets – you name it, they'll climb it. What better way to get that energy out than on a real, at home, rock climbing wall! Slackers is here to save the day and encourage our future outdoor enthusiasts to do what they do best --climb to new heights!
Our Slackers Rock Climbing Kit is complete with the climbing holds and rope holds to assemble your very own at home climbing gym! You can build the wall indoors or outdoors and be as creative as you want!
What you'll need:
Slackers Rock Climbing Kit

4×8 ft 3/4-in plywood panel (1)

8 ft long 2×4 to use as furring strips (3)

3 in. long #9 wood screws (1 box)

7/16 in. wood spade drill bit

Hammer

Stud finder

120-grit sandpaper

Allen wrench

Drill
Drill the holes for the holds about 8" apart, but before fastening the holds, you can grab some lead-free paint, and let the kids get to work on creating a climbing wall master piece of their own! Here is a fun and easy idea on how to paint by laying down tape strips and allowing the kids to paint each shape a different color!
If the weather permits, a backyard climbing wall is the perfect way for the kids to get outside, get some fresh air, and get some exercise!
Set the wall up in a safe are
a
and watch the kids play for hours trying new routes, reaching for new heights, and
challenging
their grip strength, agility and patience!
Here is a great example of what a completed outdoor climbing wall could look like: 
Or if you prefer to keep it indoors and have the space,
i
t'
s perfect for
year
-
round
activity
and could provide the perfect space for a play date with friends. Whether
it's installed
in a basement, garage, or
bedroom, you can create an indoor adventure course for your kids to have access to at any time of any day!
This next shot is one of our
all time
favorite submissions of an indoor climbing wall combined with some of our

 N
injaline
products.
BEFORE YOU BUILD THE WALL
When laying out the route of the holds, keep in mind that each color is associated with a different size and level of difficulty. For beginners, you will want to set up the holds so that there is an "easy route". The best way to trace a route for them to follow is with a colored strip of tape that is easily noticeable and can be removed once the kids have mastered the route and it's time to up the challenge with a more difficult route!
BUILDING THE WALL
Once you have your Slackers Climbing Kit, all you need is the wood and some additional tools and hardware for mounting. We recommend a 4x8 foot ¾-inch plywood panel, (3) 8 foot long 2x4 furring strips and one box of 3 inch long #9 wood screws. You will also need a wood spade drill bit, hammer, stud finder, sandpaper, an allen wrench, and a drill (see instructions for additional detail).
Once you have all of the supplies, you will want to start by creating a grid pattern on the plywood, dividing it into 6 vertical segments, and 11 horizontal segments. You will then begin to drill holes at every other intersection as shown below.
Once the paint is dry, it is time to attach the climbing holds! You will want to screw the T-Nuts into the back of the ply wood, and the screw will be screwed in through the hole in the climbing hold on the front of the wood. Use the additional wood screws that you purchased and place them in the smaller holes to fasten the holds even tighter. You will then use the eyebolt and left over T-Nuts to attach the ropes to the wall.
Once your holds are all secured, you will now move on to installing the wall! This is when you will need your stud finder. Keep in mind that framing studs run vertically every 16 inches behind each wall. Find the studs, mark the location of 3 adjacent studs and use these markings to hang and attach the wall in these areas. Please refer to the instructions for more details and info on how to properly and safely install the climbing wall.
There you have it: your very own DIY Home Rock Climbing Wall!
Once you are done building your Climbing Wall, we would love to see pictures so we can share your ideas and techniques with all of our fellow climbers! Tag us on Instagram @stairslide.
And don't forget to Play in the Air!
---