How to Care for Your Backyard Zipline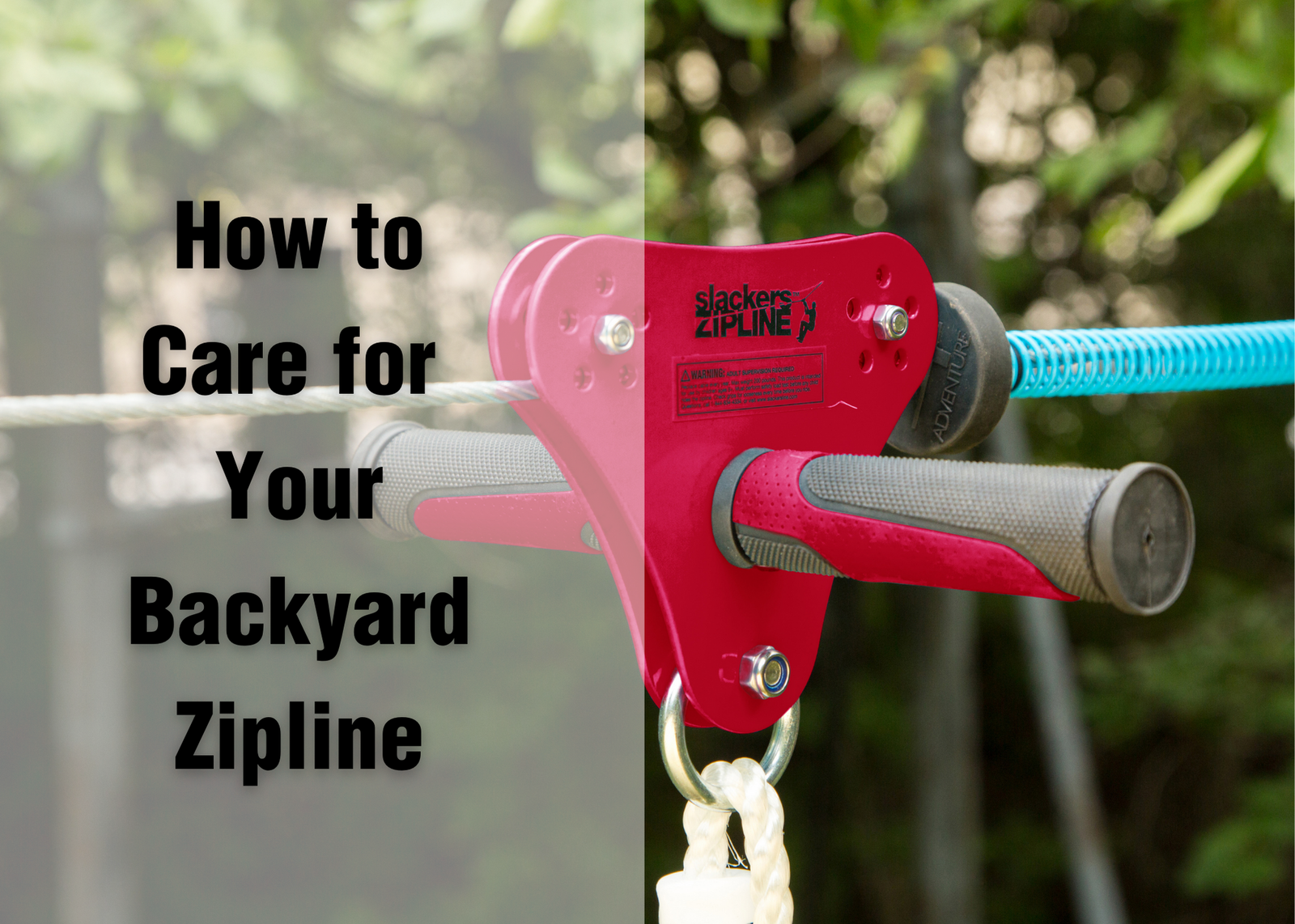 A zipline ride across your backyard is certainly one of the more exciting activities you can set up for your kids and their friends!
But in order to make sure your zipline remainsin excellent condition season to season for years to come, there are precautions you will want to take to make sure it remains safe and working as it is designed to.
If using the Zipline outside in between two trees,

always take the entire course down when outside play season ends and winter begins. The Zipline cables, trolley, and hardware are weather resistant, not weather proof.
If the course is left outside during cold weather, rust will begin to appear on the cables and metal hardware over time.
Additionally, the plastic material on the trolley (and seat, if applicable) will become brittle and faded due to excessive exposure to precipitation and UV rays.
Note that our one year product workmanship warranty does not cover damage resulting from products being left out in the elements.
Store your zipline cable back in the bag that accompanies your zipline and store in a dry place when not in use.

Store your entire zipline kit in one location so that no parts become misplaced.
Plan on using a generic lubricant on the zipline trolley wheels. This is recommended once per month during play season. In addition, use some lubricant on the bolts of the U-Clamps, turnbuckle, and any other bolt/screw assemblies once during play season. Keeping the moving metal parts lubricated will ensure smooth, easy functionality and further protect against morning dew or mild rain.
Note that with zipline kits, regular use will cause slight stretching of the main cable over time. We've added a piece of hardware called a turnbuckle to our new zipline kits for easy tension adjustments over time.
Simply twist the turnbuckle a few times to gradually tighten/loosen the main cable as needed. If your zipline kit is an older model and did not include a turnbuckle, you'll need to make the adjustments by loosening the U-Clamps and pulling the cable tighter.
At the beginning of each play season, visually inspect the entire length of the main zipline cable and sling cable. Look for any fraying sections or sharp protrusions, as well as rust or any discoloration. Also, inspect the grips and plastic pieces of the trolley and seat for any signs of fading or brittle plastic. Additionally, double check all hardware including the U-Clamps and turnbuckle.
Reach out to us directly if you notice signs of wear, rust, or anything concerning and we can look further into the situation.
If a replacement is necessary, only replace your zipline cables and other components with authentic parts purchased from our website.
Your safety and satisfaction is paramount to us, and we are happy to work with existing customers on obtaining replacement parts. Please reach out to us via phone or email with any product questions or concerns.
---