12 Trending Toys for Toddler Boys—2023 Edition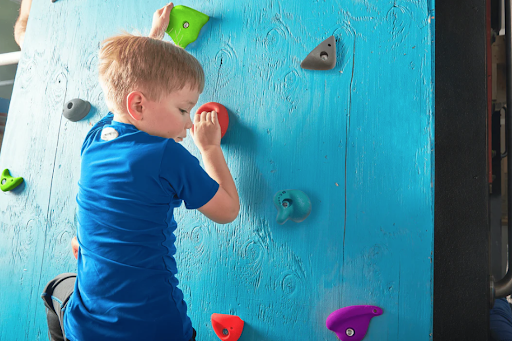 Toys are a quintessential part of every child's childhood, but there are so many options out there that it can be hard to know what toys your kids will really enjoy the most. As experts in the field of play, we can assure you that the best toys encourage activity, creativity, and movement. Where do you find toys that set out to accomplish such lofty goals, you might ask?
Well, you're in luck because we've created a list of the top 12 trending toys for toddler boys. These trending toys for toddler boys will be sure to use your kids' energy in the best ways possible, and keep them from getting bored through the summer and beyond.
Does your son love racing, climbing over and under everything, and jumping like a lil' jumpin bean? Then this Obstacle Course Race Set is the toy for them! This set includes the following:
1 adjustable height hurdle bar to jump or crawl under

1 adjustable height limbo bar

2 inflatable hop balls with handles (with an inflation pump—we're not about to leave you hanging)

4 agility rings

Start and finish lines
This obstacle race set is ideal for kids 3 and up, but can easily be enjoyed by a variety of ages!
Happy dad, happy lad, are we right? Or is it the other way around? For the toddler boys who want to be just like their golf-loving dads, this Cosmic Mini Golf set is the perfect toy. Easy to set up and store when not in use, this mini golf set is the ideal introductory golfing experience for toddlers.
Each set includes:
5 obstacles 

5 tee mats

5 holes with flags

1 putter

2 golf balls

Putting mat

Course border

Tee stakes
3. Toys for Toddler Boys:
Wack-a-Tag
For the active toddler boys out there (and let's face it, they're all incredibly, amazingly active) in need of some energy releasing games, Wack-a-Tag is perfect. This game of three pop-up pieces creates never ending fun. The pieces can be placed close together for a calmer experience, or farther apart for a more active game, making it versatile and good for a variety of ages. In addition to being a ton of fun, Wack-a-Tag also helps toddlers build hand-eye coordination and encourages healthy competition!
What toddler boy doesn't love zooming around? Our Tri-flyer is a safe, stable scooter that can be used indoors or outdoors as a race car, rocket ship, skateboard, or whatever else your kid can imagine it to be!
All kids live jumping on trampolines, but full-sized trampolines can often be dangerous for young toddlers. Our 4.5 ft Junior Trampoline and Enclosure is the perfect size for young jumpers, and the net enclosure will ensure they stay safe all summer long!
For the musically-inclined, these Musical Bell Stones are the ideal toy. Even if your toddler has no preference for music, hopping between these colorful stepping stones is ideal for games of "The floor is lava" (a usual crowd favorite among toddler boys).
Toddlers are often at the perfect age to try adventurous things—full of new interest and curiosity while still being careful enough to not try anything too crazy. Also, is it just us or do toddler boys like climbing on literally everything? Give them something real to climb with our Slackers Rock Climbing Holds Kit. These holds can be placed at any height you want, and can be adjusted as your toddler grows older and becomes more comfortable with climbing.
When it comes to indoor play, few things are more popular among kids than trying to slide down the stairs. Rather than tearing up your carpet with mattresses or other sliding objects, use The Original StairSlide! This slide can easily be placed over your stairs, ensuring countless hours of fun at any time of year.
Every toddler likes to play, but sometimes all that fun can really make a kid tired! Swings are the perfect toy for toddlers who are wanting to chill out but still have fun. Our Playzone-fit Cloud Swing is safe, fun, and easy to install indoors or outdoors.
If your toddler likes kicking things around, they'll love our Wicket Kick: Giant Kick Croquet set! This croquet game is perfect for toddlers, older kids, teenagers, and adults alike to come together and have a good time!
11. Toys for Toddler Boys:
Twist n' Spin
Toddlers love staying busy even when they need to stay still, and our Playzone-Fit Twist n' Spin offers the perfect solution. This Twist n' Spin makes it easy for your toddler to twist and spin while sitting down and staying in one place, helping them get out some energy and have fun while also staying safe!
This toy can be shared with friends, taken outside, and used for so many different activities—what could be better than that? Our Wacky Race Set includes all you need to play the following games:
Hop sacks

Nose Nudge (pushing a ball to the finish line using your nose)

Water transfer helmet (as shown in the picture below)

3 legged race (two players tying two of their legs together to see how fast they can go on only three legs)

Wizzy Dizzy (spinning around in a circle before needing to race to a finish line)

Knee walkers (walking as fast as possible while keeping a stick between your knees)
These games are ideal for groups of friends, but your toddlers can also play with these toys on their own to build their skills and be ready for the next competition!
---